Posted by Marcea Owen on 4th Aug 2020
It is that time again, BACK TO SCHOOL and another FREE #QUILTBLOCKMANIA BLOG HOP!
While Back to School may look very different this year, you can still celebrate with 37 Free Blocks. We picked a theme, a color scheme and then went to town, each designing a block. The best part, ALL THE BLOCK PATTERNS ARE FREE. Links for my pattern and a list for all the blogs will be at the bottom of this post. You can also follow along on instagram, just search #quiltblockmania and on facebook https://www.facebook.com/groups/556520081896344/. Welcome to Month #2
My Block this month is entitled #AnAppleForTheTeacher.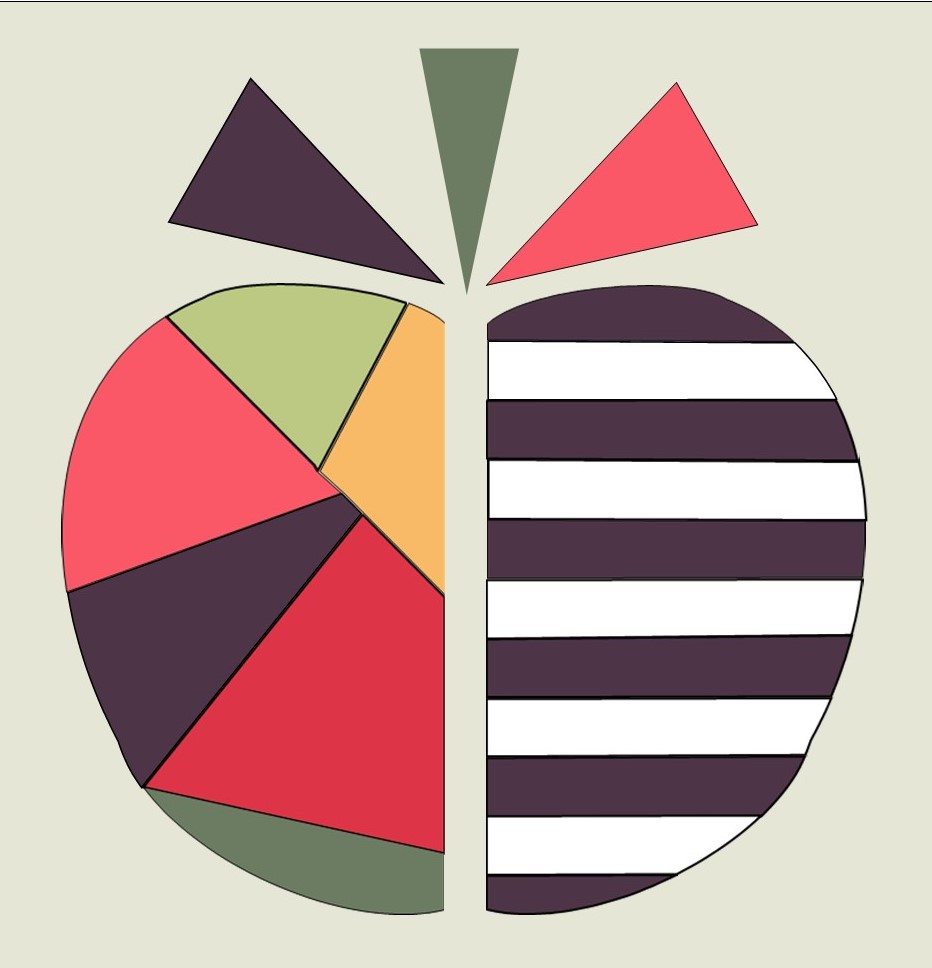 I have been trying to show you new techniques with each Block. AN APPLE FOR THE TEACHER is made using my fun method of ABSTRACT APPLIQUE! I put together a great YOUTUBE TUTORIAL VIDEO that shows you in detail how to use fusibles and how to do the stitching for the applique. Here's the link, and don't forget to FOLLOW Cotton Street Common's youtube channel, so you can be notified of new tutorial.
Now on to the Block.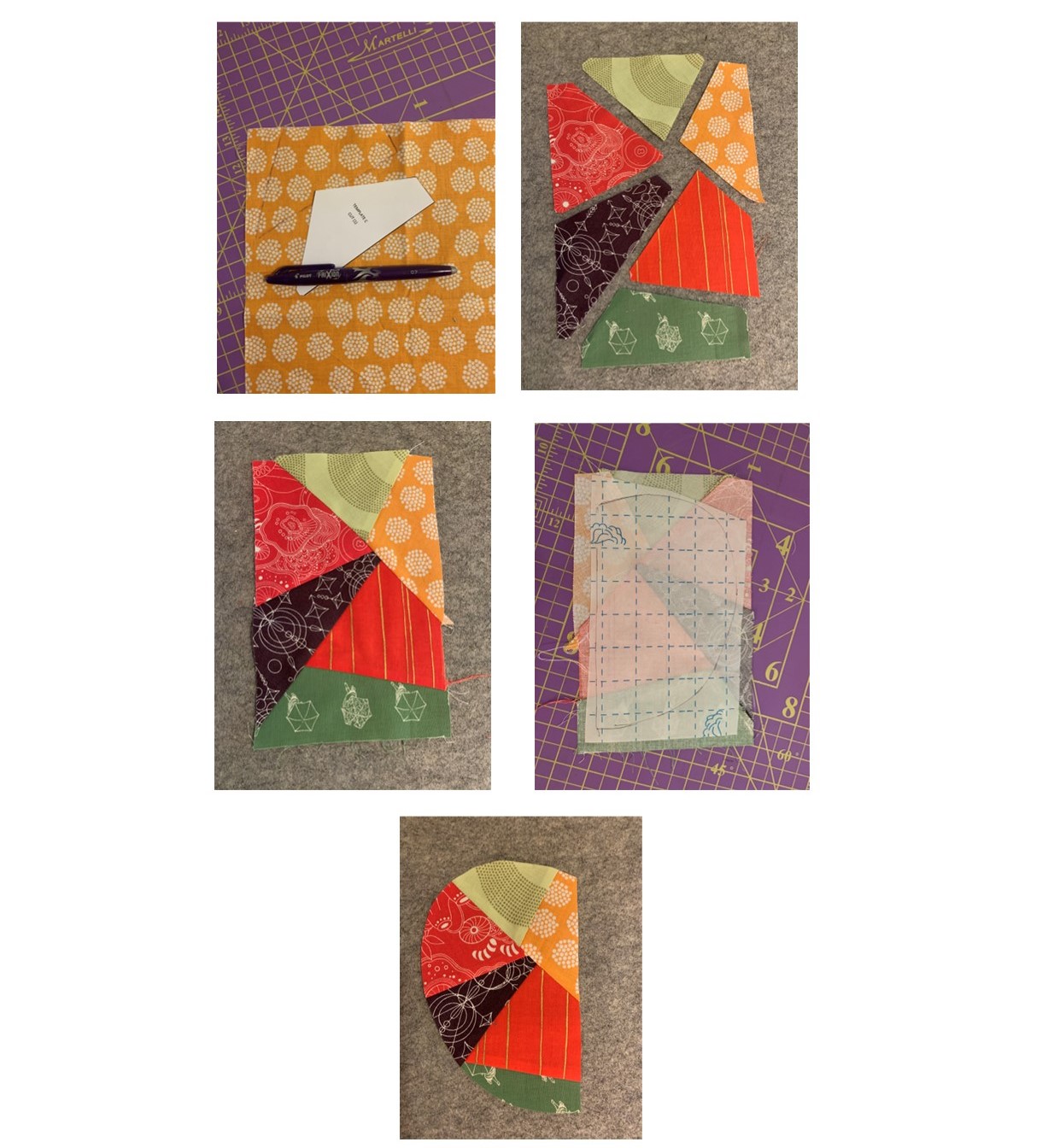 There are two sides to the Apple. I call this the CRAZY PATCH SIDE. Start with Templates. Sew them all together. Use the Steam-A-Seam template ironed to the wrong side. Cut one the lines and you have your first piece.
The STRIPED SIDE is quick to sew up. The Template again finished up the side.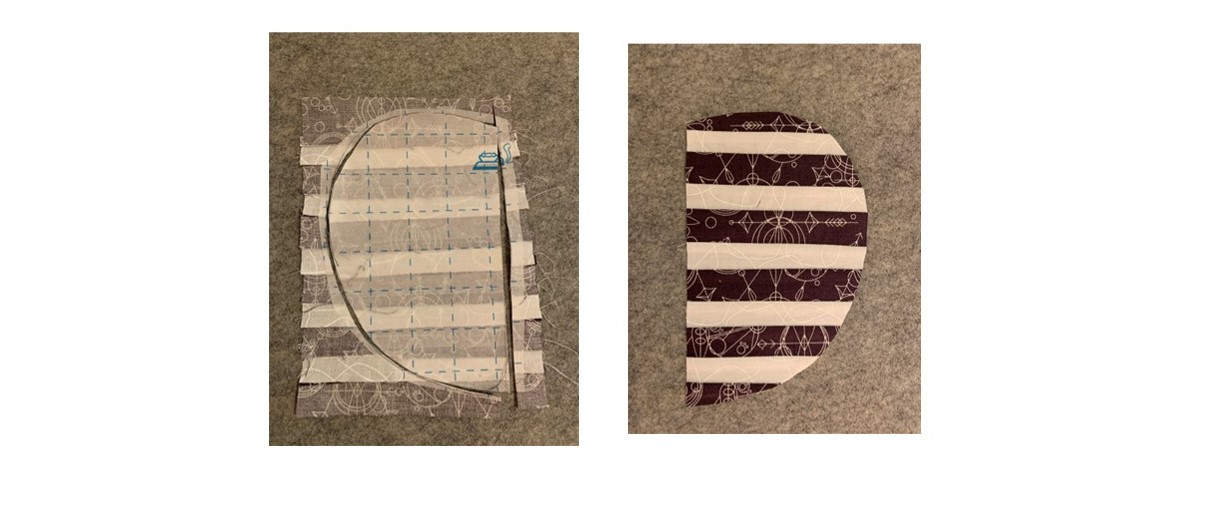 NOW THE FUN STARTS! Arrange all the pieces on the background. Press them down, and now you can start to stitch. Again, the tutorial on YOUTUBE is very helpful.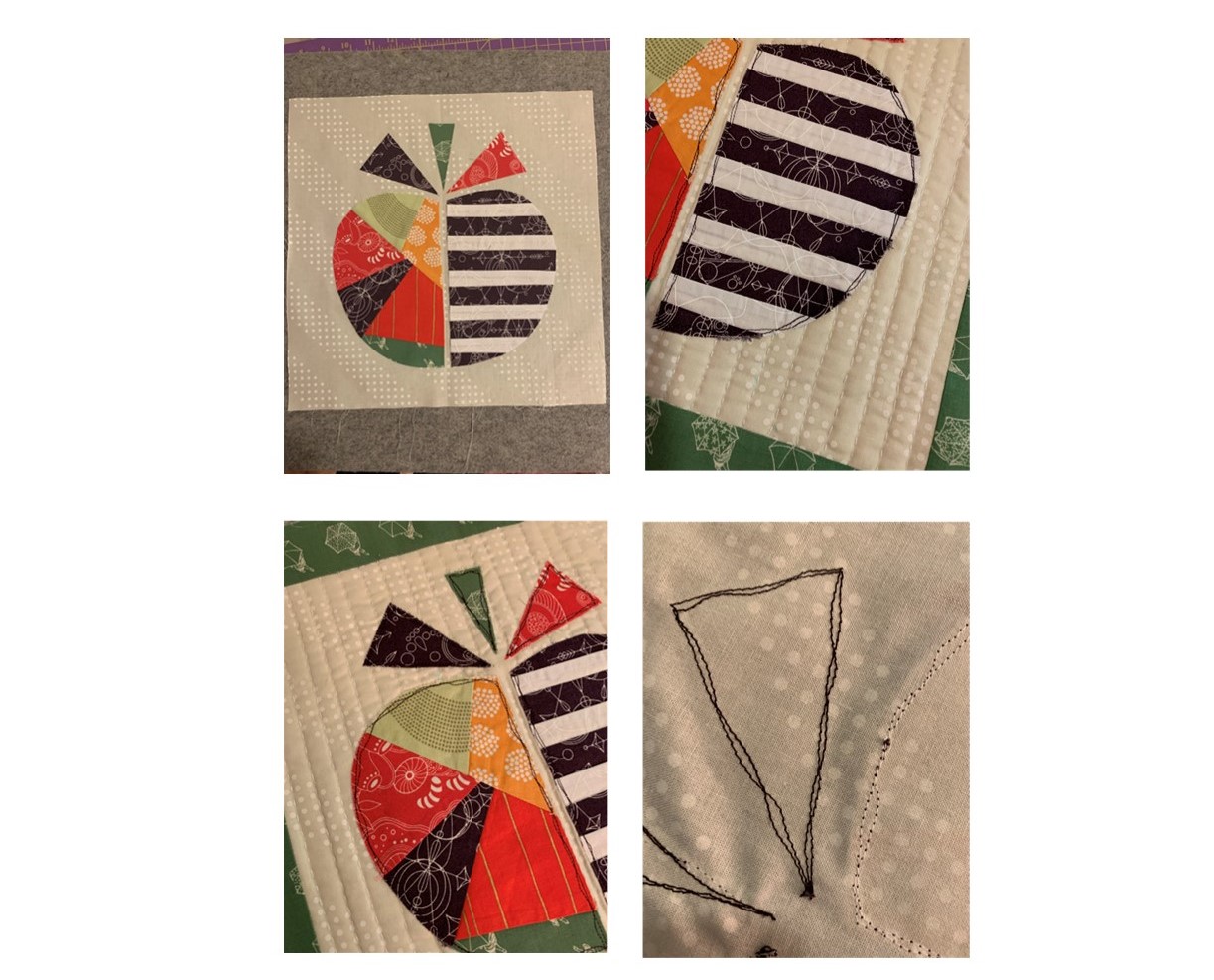 To Finish Up, I added a Border, Big Stitch Quilting and the great Striped Binding. Finished size 15" x 15". For small projects, I usually do a narrower binding also. Always have my Binding Buddy from Dohickey Designs close by.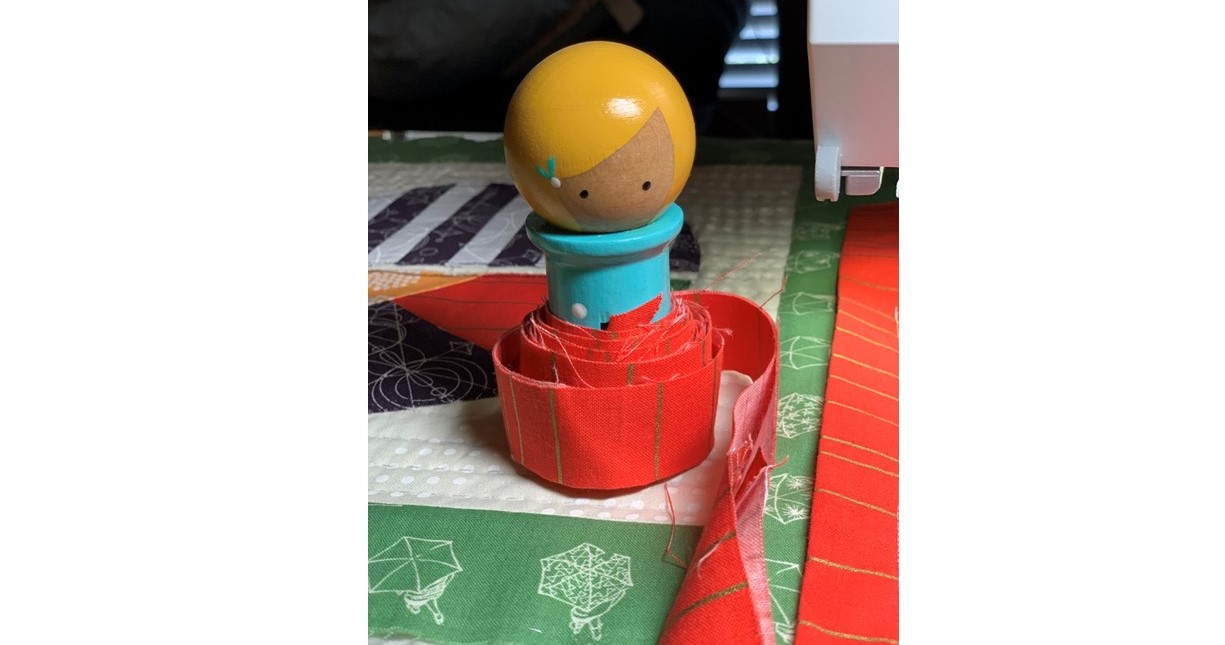 Here is the FINISHED BLOCK.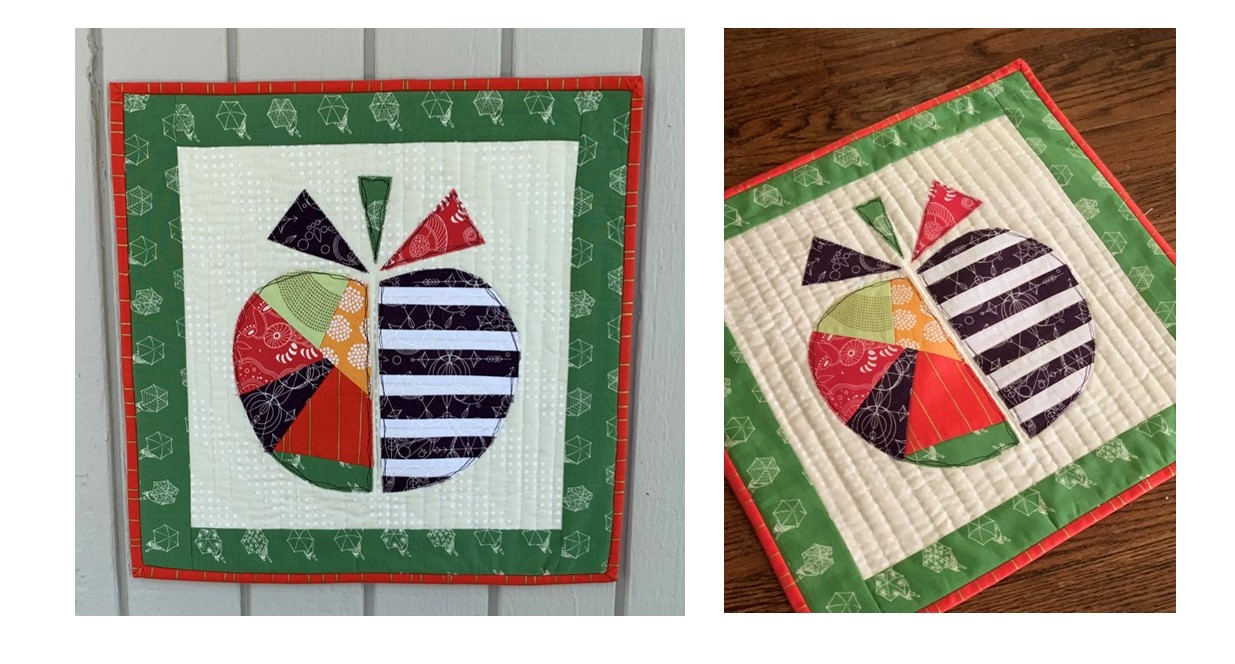 The best part of this Block, IT'S FREE. JUST ADD IT TO YOUR CART TO DOWNLOAD.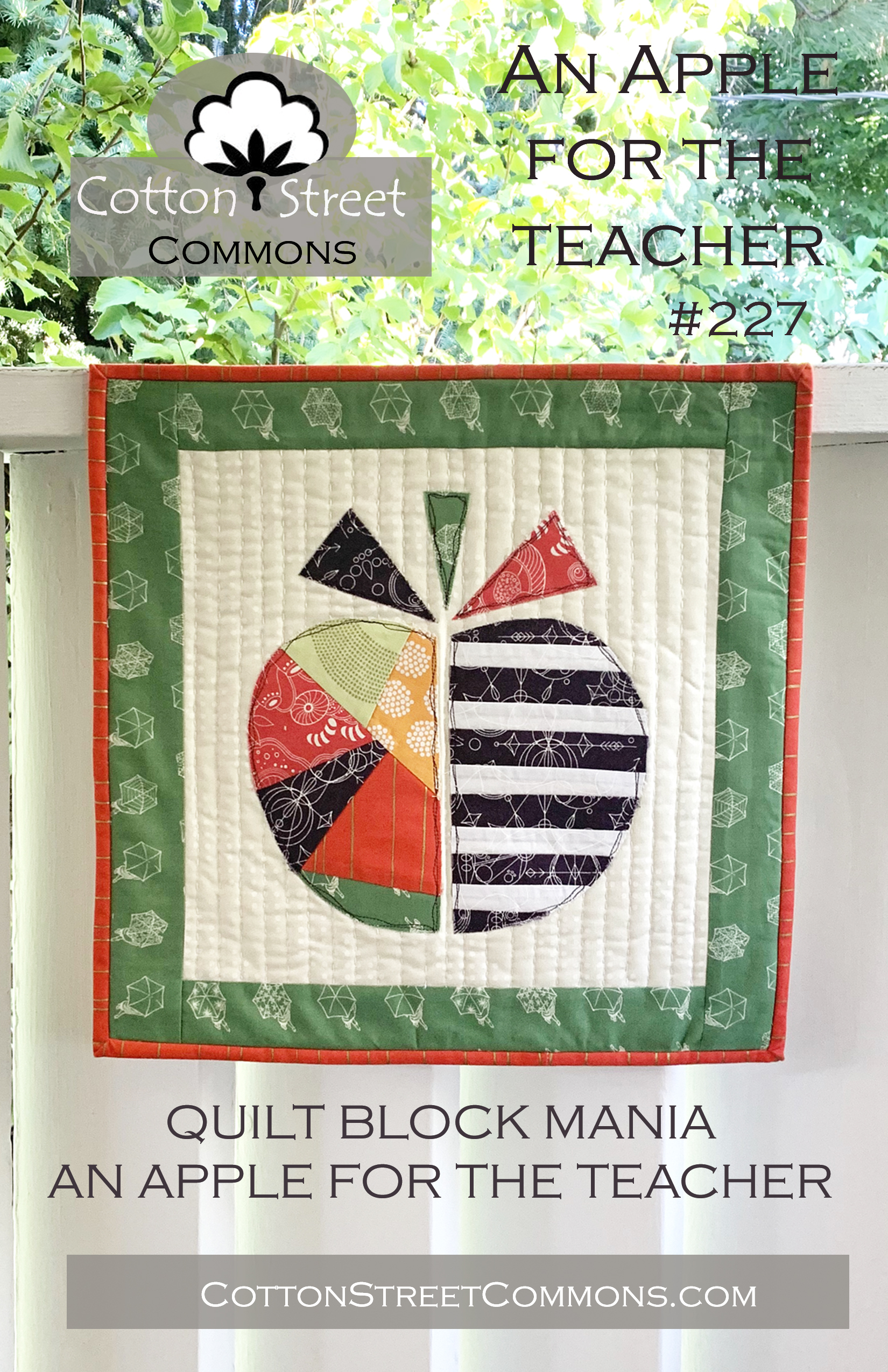 One more bonus, I have lots of quilts that use the ABSTRACT APPLIQUE METHOD. Here they are. To celebrate all this applique, they are all on sale for 20% OFF. Just use COUPON CODE ABSTRACT.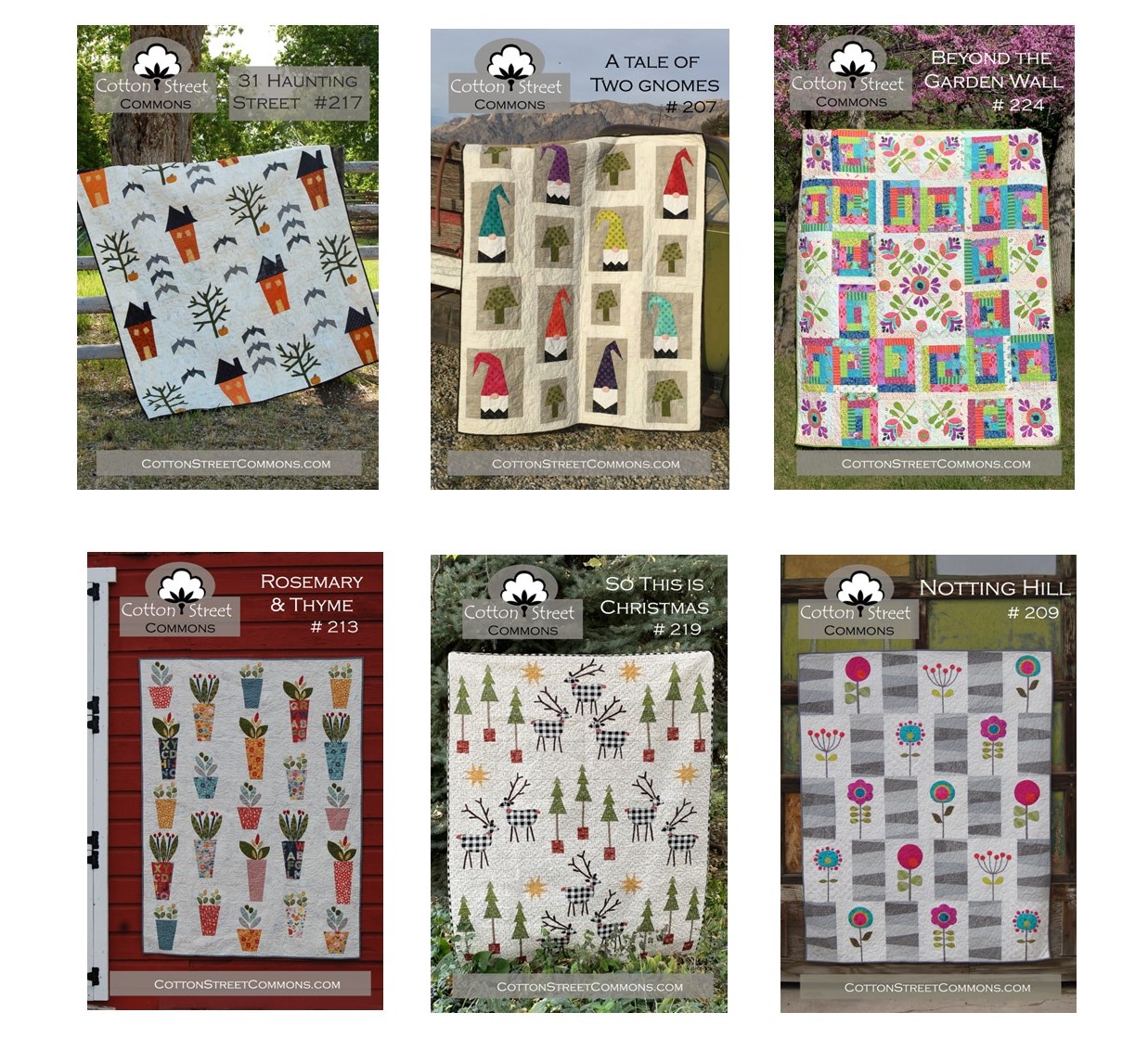 So remember I said there were 37 FREE BLOCKS all on the QUILT BLOCK MANIA BACK TO SCHOOL BLOG HOP. Wow, that was a mouthful.
Here is a list of all the other blogs, so enjoy, and HAPPY BLOCK MAKING!
http://www.sliceofpiquilts.com/2020/08/back-to-school.html
https://poweredbyquilting.com/2020/08/04/quiltblockmania-back-to-school/
https://prettypiney.com/back-to-school
http://www.inquiringquilter.com/questions/2020/8/4/quilt-block-mania-august-is-back-to-school
https://alwaysexpectmoore.com/2020/08/stack-of-books-quilt-block.html
https://sewbrainy.com/blogs/news/pointy-pencil-block
https://www.duckcreekmountainquilting.com/blog/2020/7/19/back-to-school-bloghop-pythagoras-theorem
http://www.quiltingroomwithmel.com/2020/08/pencil-quilt-block-back-to-school-quilt.html
https://orangeblossomquilt.com/blog/f/shermer-high-school-shermer-il-60062
https://www.quilted-diary.com/post/august-quilt-block-mania
http://charismascorner.com/?p=37325
https://www.devotedquilter.com/2020/08/quilt-block-mania-basketball.html
https://www.perkinsdrygoods-blog.com/quilt-block-mania-august/
https://mailchi.mp/dragonflysquiltshop/quiltblockmania-backtoschool
https://off-the-wall-quilt.myshopify.com/admin/blogs/94018314/articles/386960556116
https://quiltmoments.com/quilt-block-mania-August
https://utahquiltappraiser.blogspot.com/2020/08/quilt-mania-back-to-school-school-house.html
https://truebluequilts.com/back-to-school-2020-blog-hop/
https://heidipridemore.blogspot.com/2020/08/block-mania-blog-hopfree-study-buddy.html
https://www.quiltfabrication.com/2020/08/back-to-school-calculator.html
https://lindabcreative.blogspot.com/2020/08/back-to-school-quilt-block-mania.html
http://blog.doohikeydesigns.com/back-to-school/
https://cottonstreetcommons.com/a-gathering-place-for-creativity/quilt-block-mania-an-apple-for-the-teacher/
http://www.quiltingmod.com/2020/07/quilt-block-mania-back-to-school.html
https://sewonthego.blogspot.com/2020/07/schoolgirlspuzzle.html
https://www.quiltfox-design.com/post/august-2020-back-to-school-quilt-block-mania
https://ohkayequilting.com/2020/08/04/back-to-school/
http://pattispatchwork-blog.com/2020/08/04/back-to-school-time-at-quilt-block-mania
https://www.appliquesquiltsandmore.com/quilt-block-mania-free-pattern
https://lp.constantcontactpages.com/su/Xkky8Wr/QBMAugust
http://frommycarolinahome.com/2020/08/04/quilt-block-mania-back-to-school/
https://bluebearquilts.com/2020/08/1803/
https://www.amararcreacions.com/en/quilt-block-mania-back-to-school
http://www.sewjoycreations.com/2020/08/quilt-block-mania-show-up-and-shine.html