Posted by Marcea Owen on 26th Aug 2020
There is a crisp wind blowing tonight ushering in a touch of fall which means that HALLOWEEN is just around the corner and I have a new #QUILTBLOCKMANIA Block Pattern. We started with a great color pallete perfect for the Holiday. First comes the design.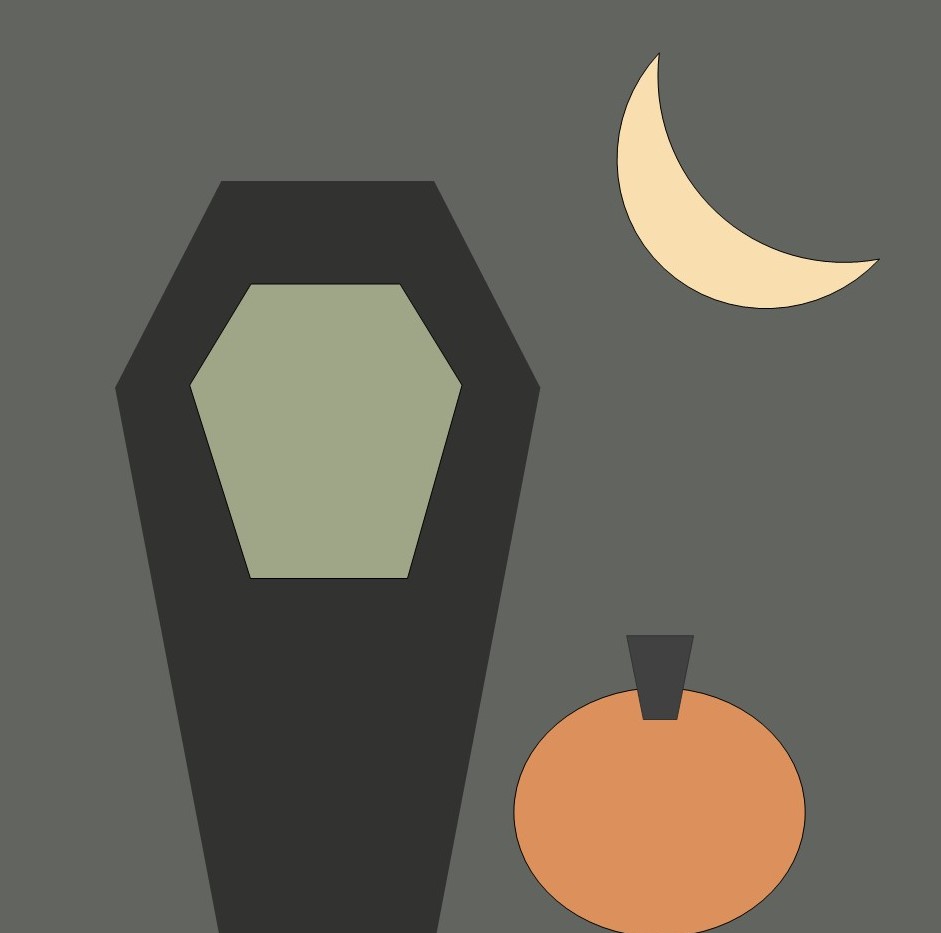 Next, choosing the fabrics. I have four large plastic bins full of Halloween fabric, but just didn't find anything in the color range, ha ha. That meant shopping for more fabric, darn. I found the perfect background fabric from Art Gallery to create my DARK NIGHT quilt block. The rest of the fabrics came together quickly.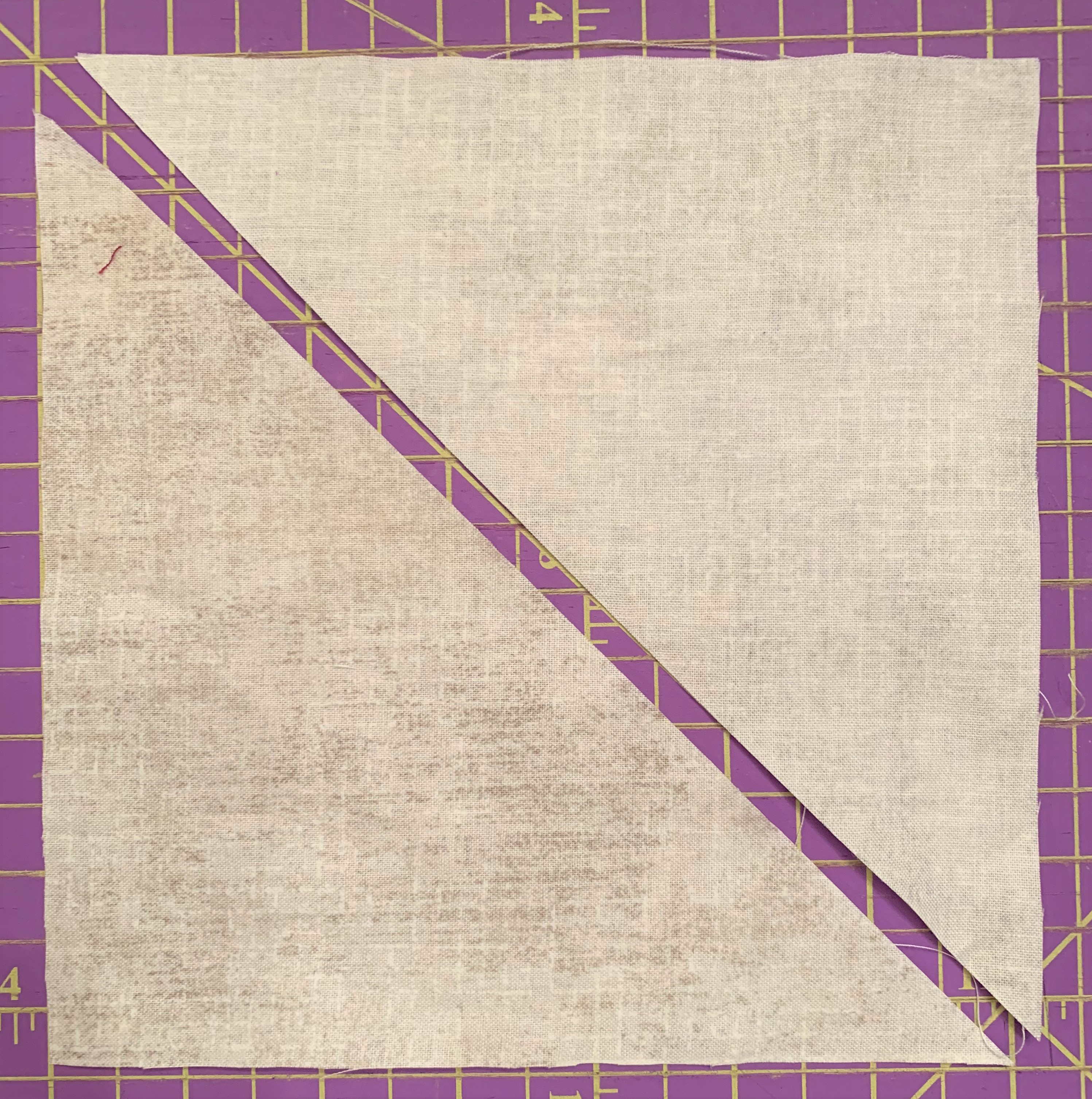 The background and the coffin are pieced. You can see in these pictures how to lay out the templates to keep the background print flowing. I use flat head pins to hold the templates in place. My ruler fits right over top them to make the cuts. If you are careful, you can get a bonus coffin.

Once the Background is sewn, I started on my Abstract Applique Templates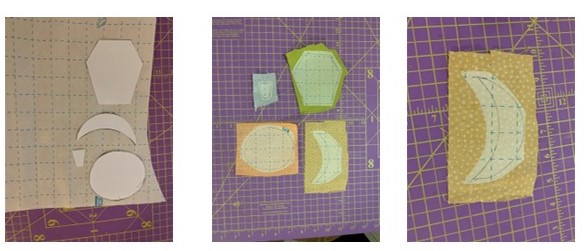 . I have a youtube video that goes into detail on this method with lots of tips and hints. Just click on the link, and while you are there, please subscribe so you don't miss any tutorials.
Once the appliques were on, I added the cute little ghosts to the Coffin window. This is a fun space where you can put your own little goul. I decided to make a pillow, they are one of my favorite decorating items. With each new block, I try to experiment with new techniques. For this block, I decided to play with the quilting. (I am not a quilter, remember.) So I got a stencil, and a pounce pad with iron-off chalk. I quilted in a medium grey thread. I was pretty happy with the results.

With the block all trimmed up, it was time to make the ruffle. I used three 6' x WOF strips sewn end to end to create a circle. I then folded it in half (3" wide) and pressed the fold. It gets pinned to the block and sewn in place.

I used more ghosts for the back of the pillow. Cut a 12 1/2" x 12 1/2" piece and with right sides together, sew it to the front block. Leave a 5" opening at the bottom for turning. Stuff with batting and hand stitch the open seam closed. Yeah, it's a cute little pillow, perfect for the season.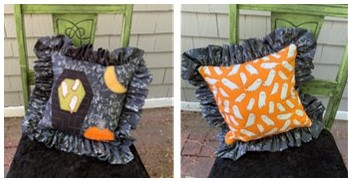 To get the pattern, just go to FREE PATTERNS and download your copy.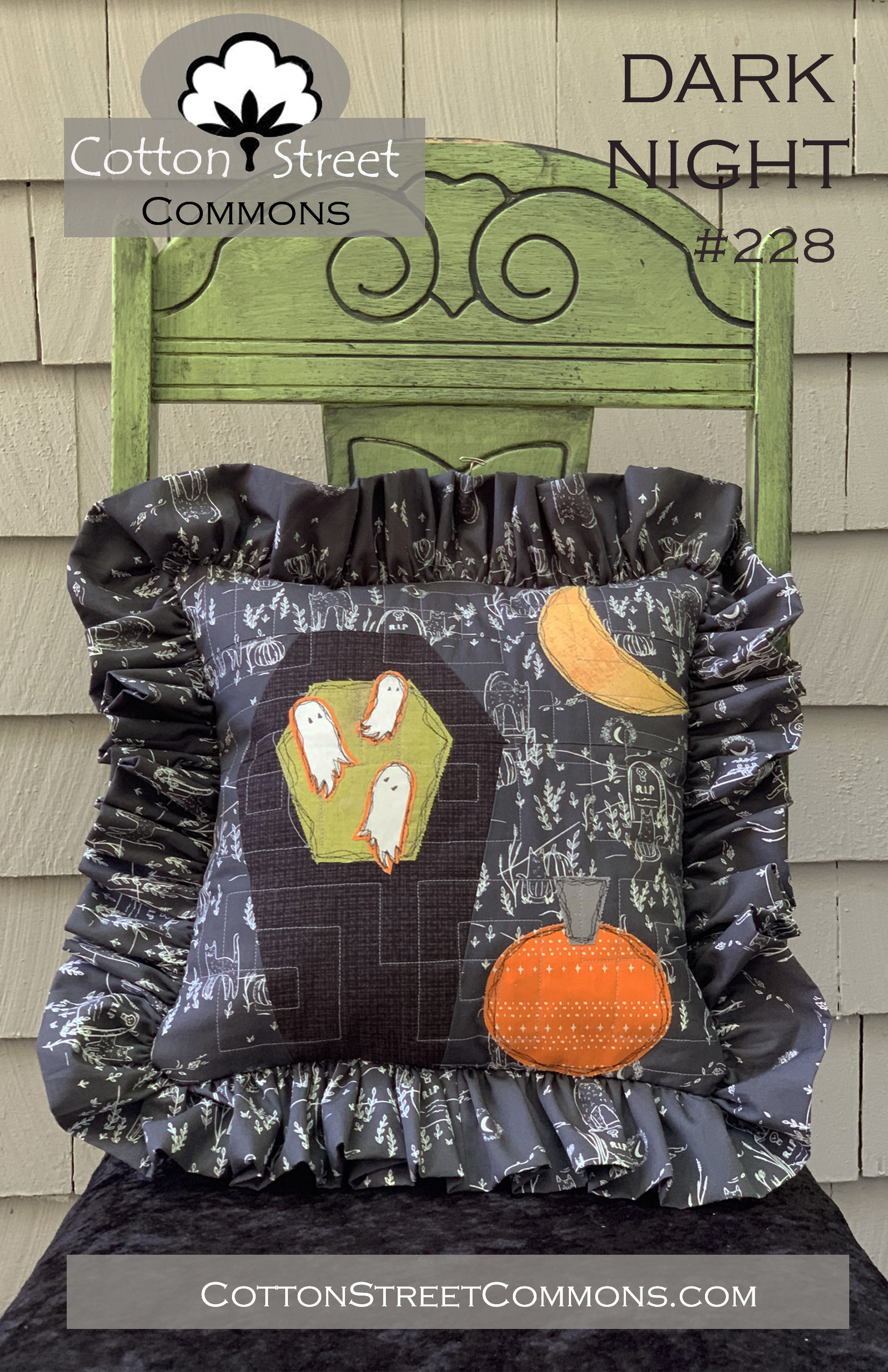 Now, as you know, this is not the only block. This month we have 29 designers in total who have all created spooky and fun HALLOWEEN BLOCKS. Here are the links to all the other blogs. Have fun hopping!
Ring of Pumpkins at Always Expect Moore
https://poweredbyquilting.com/2020/09/01/quiltblockmania-halloween/
https://sewbrainy.com/blogs/news/three-treats-block http://www.sliceofpiquilts.com/2020/09/going-batty.html
https://www.duckcreekmountainquilting.com/blog/2020/9/1/halloween-and-day-of-the-dead-quilt-blocks
https://orangeblossomquilt.com/blog/f/elphaba-thorpes-big-fat-gypsy-wagon
https://www.seamstobesew.com/?p=25307
https://www.quilted-diary.com/post/september-quilt-block-mania
https://www.perkinsdrygoods-blog.com/quilt-block-mania-september/
https://blockofthemo.com/freebies/
https://www.offthewallquilt.com/blogs/news/as-fall-approaches
https://quiltmoments.com/quilt-block-mania-september
https://aroundthebobbin.com/quilt-block-mania-halloween
https://heidipridemore.blogspot.com/2020/09/batty-and-happy-free-block-for-halloween.html
https://www.quiltfabrication.com/2020/09/halloween-candy-corn.html https://cottonstreetcommons.com/a-gathering-place-for-creativity/quilt-block-mania-dark-night/
https://sewonthego.blogspot.com/2020/09/Turninguppumpkins.html https://scrapdash.com/?p=8296
https://stashbandit.net/quilt-block-mania-and-giveaway/
https://pattispatchwork-blog.com/2020/09/01/30-free-spook-tacular-blocks/
https://www.amararcreacions.com/en/quilt-block-mania-halloween/
https://auntemsquilts.com/tutorials/free-halloween-quilt-blocks https://www.appliquesquiltsandmore.com/blog/quilt-block-mania-halloween-171384
https://lp.constantcontactpages.com/su/iJSf6SU/QBMSeptember
https://bluebearquilts.com/2020/09/quilt-block-mania-sun-boo-net-sue-block-free-pattern/
https://ohkayequilting.com/2020/09/01/make-a-hairy-leg-spider-block/
https://utahquiltappraiser.blogspot.com/2020/09/quilt-block-mania-halloween-blocks.html