Posted by Marcea Owen on 7th Jul 2020
I am so exciting to be a part of QUILT BLOCK MANIA. A group of 28 Designers have gotten together to bring you some SUMMER FUN! We picked a theme, a color scheme and then went to town, each designing a block. The best part, ALL THE BLOCK PATTERNS ARE FREE. Links for my pattern and a list for all the blogs will be at the bottom of this post. You can also follow along on instagram, just search #quiltblockmania and on facebook https://www.facebook.com/groups/556520081896344/. This is the first of several months of fun. And now, I introduce you to my block entry FREE TO FLY.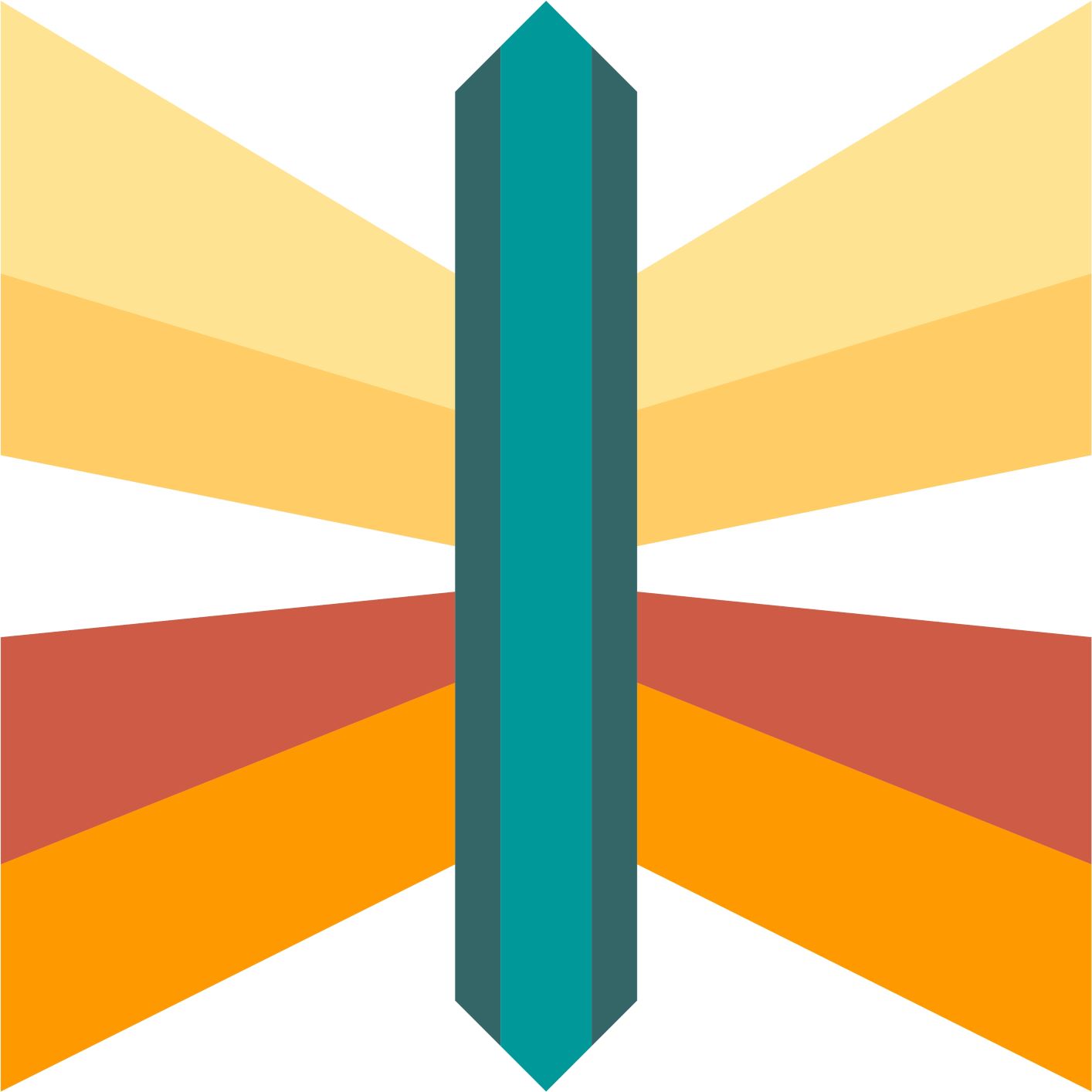 Summer for me means lots of flowers and flowers brings butterflies. This is my modern version of a Butterfly. First came the design, then picking the fabrics. Large Templates make it an easy sew.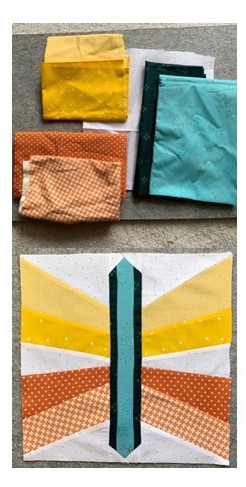 So that's it, not. If you know me, I just keep going and going and that is exactly what I did with the block. I thought it would be fun to try out some new and some old techniques.
BIG STITCH QUILTING if making a comeback. I chose my threads, I like Aurifil 12 weight. I didn't have a big enough solid piece for the back, so I pieced a little stripe. I sandwiched my block using an 80/20 cotton blend batting. Then, I used Painter's Tape to mark off the lines where I would be doing the stitching. It was so much fun figuring out where the stitching should go. I forced myself to stop stitching, but I could have covered the entire block.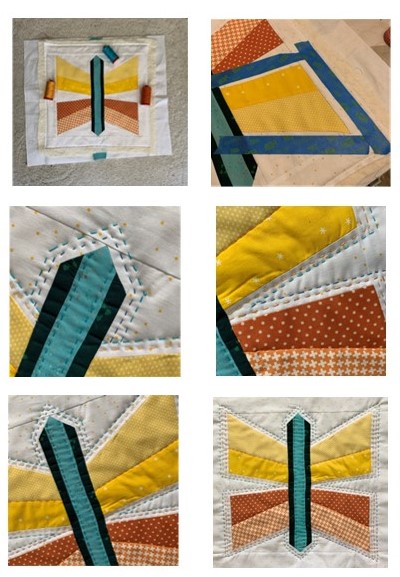 I wasn't finished yet, I decided to use a couple of binding methods. I chose to combine a pieced binding with a solid flange. My little pieces were easy to sew together, but pressing the seams open wasn't very fun. I choose the darkest color for my skinny flange piece to really set off the block. As you can see, I had a couple of piles of binding, but I have discovered the cutest and really useful new notion to help with the mess. I got a "BindingBaby" and the best part, Shari from https://doohikeydesigns.com/ is offering a 20% off on all her Binding Babies and other fun things on her website. She is also part of the Quilt Block Mania. Just use the code COTTONSTREET for your purchase.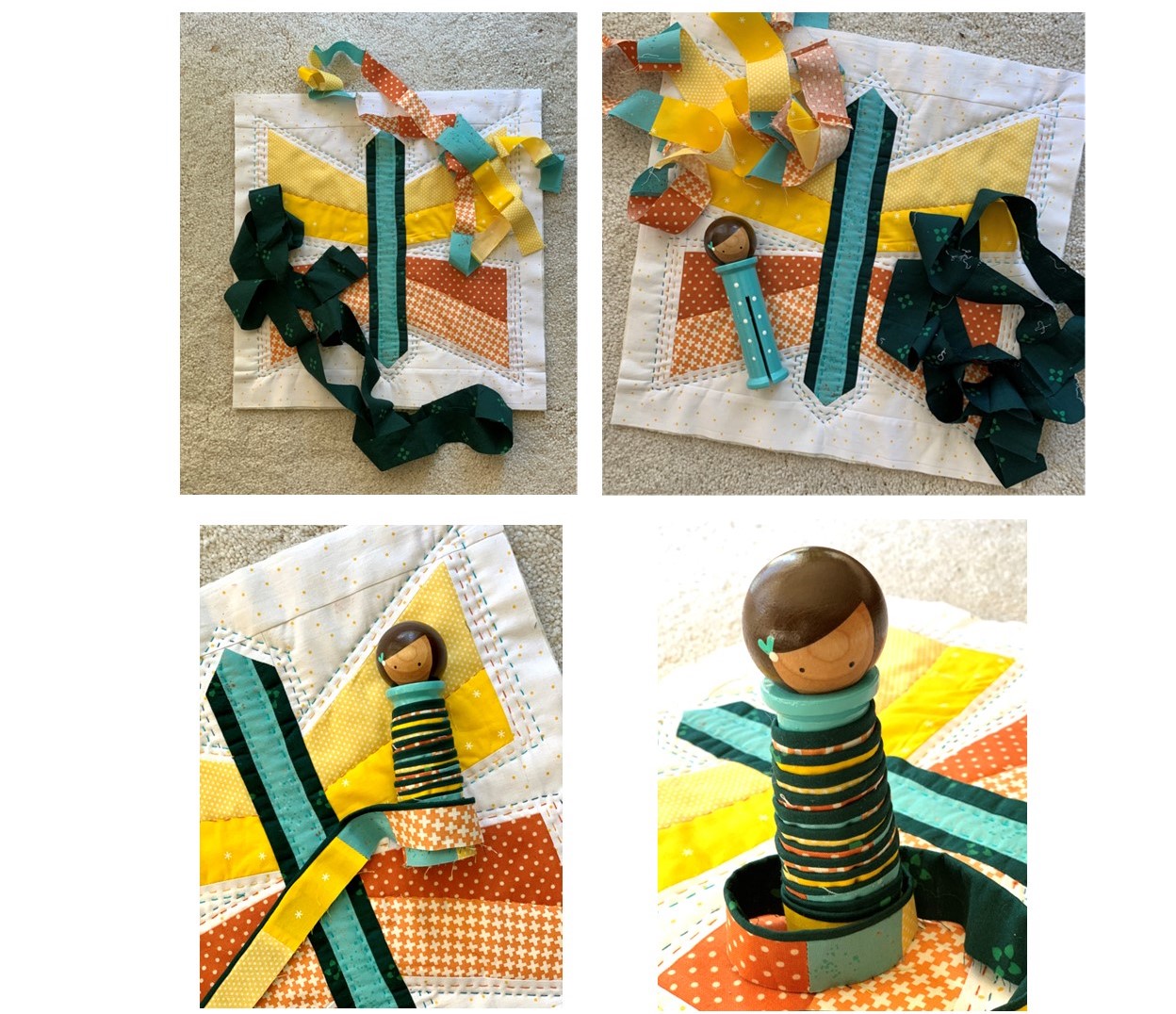 So here is my finished FREE TO FLY MINI QUILT. Here is the link to get the PDF Pattern http://cottonstreetcommons.com/free-to-fly-pdf-download-226d/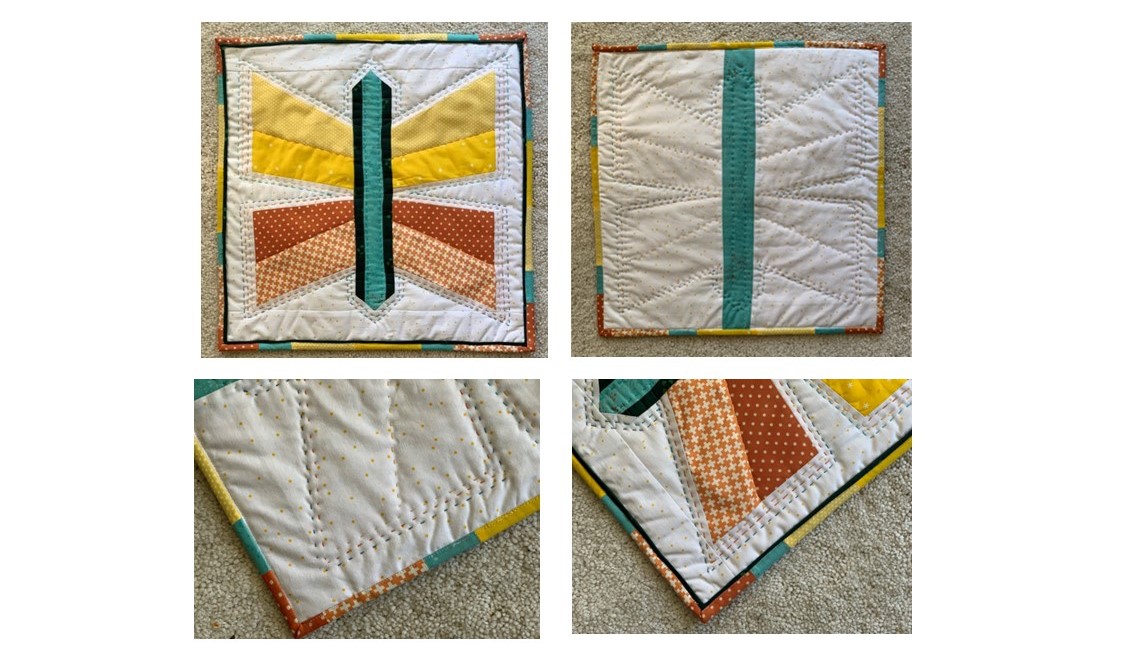 But I didn't stop there. I am also playing around with FPP (Foundation Paper Piecing) and I decided to do the block that way. I loved it so much, I am going to add some other elements and create a new wall hanging. Pattern coming soon.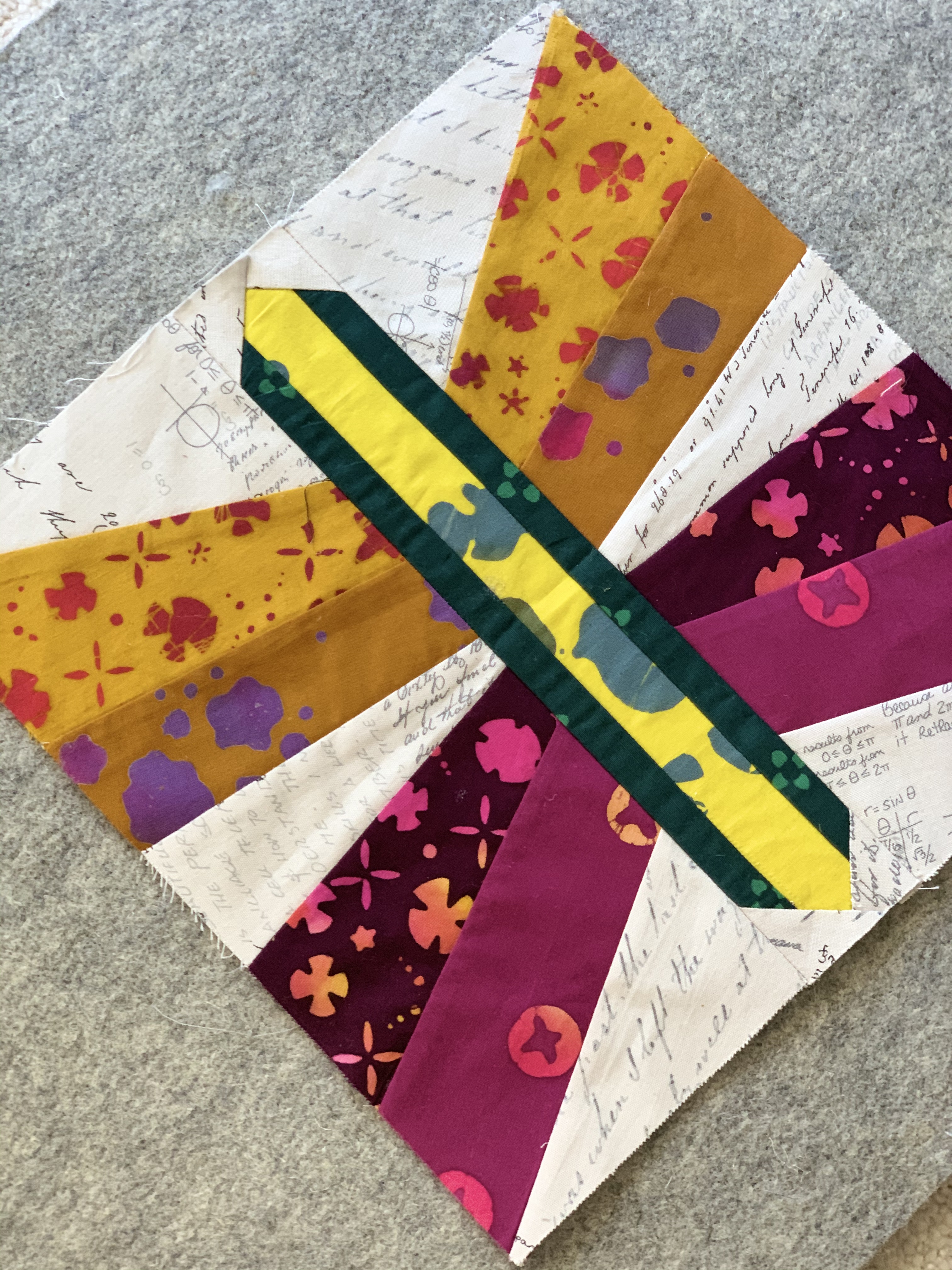 I saved the BEST FOR LAST! Not only are you getting a FREE PATTERN, but I am giving away the FINISHED MINI QUILT BLOCK. Head over to https://www.instagram.com/cottonstreetcommons/ and/or https://www.facebook.com/cottonstreetcommons/ and find out how to enter.
Now as promised, here are the links for all the blogs, have a great time and a lot of SUMMER FUN.
https://alwaysexpectmoore.com/2020/07/quilt-block-mania-summer-tent-quilt-block http://www.inquiringquilter.com/questions/2020/7/7/quilt-block-mania-july-is-summer-fun https://prettypiney.com/flippity-flop/
https://www.seamstobesew.com/quilt-block-mania-month-1-is-here/
http://www.sliceofpiquilts.com/2020/06/beach-party.html https://poweredbyquilting.com/2020/07/07/quiltblockmania-summer-fun/
http://Freckledfoxquiltery.wordpress.com
https://aroundthebobbin.com/quilt-block-mania/ https://heidipridemore.blogspot.com/2020/07/free-buckets-of-fun-summer-block-for.htm https://sewbrainy.com/blogs/news/wonky-beach-umbrella-block
http://www.devotedquilter.com/2020/07/quilt-block-mania-starfish-dance.html https://glendawilderdesigns.com/wp-content/uploads/2020/06/SAIL-AWAY-Summer-Fun-Free-Block-by-Glenda-Wilder-Designs.pdf
https://www.duckcreekmountainquilting.com/patterns-2/yacht
https://orangeblossomquilt.com/blog/f/delvecchio'
http://www.quiltingmod.com/2020/07/quilt-block-mania-summer-fun.html
https://www.sewjoycreations.com/2020/07/quilt-block-mania-sleeping-under-stars.html
https://blockofthemo.com/freebies/
https://www.quilted-diary.com/post/quilt-block-mania-summer-fun
https://www.perkinsdrygoods-blog.com/welcome-to-quilt-block-mania-july/
http://www.charismascorner.com
https://www.amararcreacions.com/en/quilt-block-mania-hello-summer/
https://scrapdash.com/block-of-the-month-tall-ships/
https://www.hissyfitzdesigns.com/sandy-fitzpatrick-of-hissyfitz-designs/2020/6/30/free-patterns-for-you
https://www.offthewallquilt.com/blogs/news/things-that-make-me-uncomfortable
https://www.quiltfox-design.com/post/quilt-block-maniahttps://www.quiltfabrication.com/2020/06/summer-fun-surfboards.html
https://lindabcreative.blogspot.com/
http://blog.doohikeydesigns.com/twoscoopsforquiltmania/
http://cottonstreetcommons.com/blog/quilt-block-mania-summer-fun/